Important Announcement: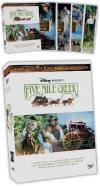 The First Season of Five Mile Creek will be released in a 4 DVD set on November 8th, 2005. No release dates for seasons 2 and 3 have been announced as of yet.
For more details see this TV Shows on DVD news item and this Ultimate Disney article.
Journey back to the gold rush on the untamed Australian frontier in this stunning saga of Australian and American settlers attempting to establish the region's first stagecoach line. Produced by Henry Crawford and Douglas Netter, Disney's Five Mile Creek was blessed with the acting talents of Louise Caire Clark, Jay Kerr, Liz Burch, Rod Mullinar, Michael Caton, Peter Carroll, Gus Mercurio, Martin Lewis, Priscilla Weems, Nicole Kidman and Shannon Presby.
Authenticity was key for this television series adapted from Louis L'Amour's book, The Cherokee Trail, and filmed on location forty miles north of Sydney in the beautiful Australian outback Over five hundred hours of in-depth research ensured historical accuracy -- from the refurbished Concord stagecoach, to the choice of locations and construction of sets, to the creation of dialogue, costumes, and characters. The combination of a phenomenally talented cast and crew, the pristine beauty of the Australian outback sets, and the meticulous attention to detail on every level made Five Mile Creek one of Disney's finest live action series.