Disney Channel Magazine
December 1986
All images are thumbnailed. Click on picture to view the full-size.
page 32: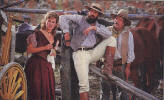 FIVE MILE CREEK
In Australia's "Old West", Kate Wallace and the American widow Maggie Scott run the stage stop at Five Mile Creek, halfway between the coast and the Wilga goldfields. Their friends Con and Jack own the Australian Express stage line. A new Five Mile Creek episode airs every Friday at 8:00 p.m. (Eastern/Pacific time).