Disney Channel Magazine
August 1984
All images are thumbnailed. Click on picture to view the full-size.
page 16:
Five Mile Creek
Louise Caire Clark, Rod Mullinar, Liz Burch, Michael Caton, Priscilla Weems, Martin Lewis, Gus Mercurio, with Jay Kerr as Con Madigan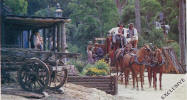 Love and danger create new excitement for the hardy folks at Five Mile Creek as Jack Taylor brings his sweetie to the Haven and Paddy Malone confronts his past
Confirmed Five Mile Creek fans say the characters seem like old friends. Tune in this month for two new, self-contained stories about the adventures of these remarkable people in the Australian outback of the 1860s. If you haven't met them yet, you'll be delighted when you do!
Jack Taylor's (Rod Mullinar) lovestruck behavior thoroughly exasperates everyone at Five Mile Creek in "When the Kookaburra Cries" (beginning August 1). Fed up with his shenanigans, they turn the Haven into "The Honeymoon Hotel" as a practical joke to embarrass him when he brings his lady love for a visit.
Paddy Malone's (Michael Caton) past haunts him in the shape of a bounty hunter in "Walk Like a Man" (premiering August 15). When Paddy is betrayed by Sam (Martin Lewis), whose adolescent growing pains blind him to the true situation, the Five Mile Creek "family" makes a desperate effort to save him.
"When the Kookaburra Cries" August 1, 3, 5, 6, 9, 11, 14
"Walk Like a Man" August 15, 17, 19, 29, 23, 25, 27