Disney Channel Magazine
September 1986
All images are thumbnailed. Click on picture to view the full-size.
page 15:

All the adventure, drama, and romance of life on the rugged Australian frontier returns to The Disney Channel with the presentation of the highly acclaimed series "Five Mile Creek." A coach stop on the Australian Express stage line, Five Mile Creek lies between the harbor of Port Hudson and the rough and wooly goldfields at Wilga. The series, produced exclusively for The Disney Channel, chronicles the life and times of the two women who run Five Mile Creek's hostelry and the two men who own the Australian Express. Starting September 19, you'll be able to enjoy this exciting series every Friday evening at 8:00 p.m. (EDT/PDT).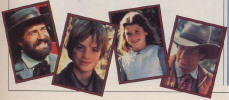 page 18:
FIVE MILE CREEK
Back by popular demand, this series tells the tale of two women and two men who struggle to realize their dreams on the Australian frontier. Starring Liz Burch, Louise Caire Clark, Jay Kerr and Rod Mullinar, the saga continues every Friday evening at 8:00 p.m. (EDT/PDT).